We at Smart PC Utilities are thrilled to announce the release of Game Fire v6.6. This fresh update of our game booster software brings new Windows boosting options as well as dozens of feature improvements and bug fixes, this will allow you to tweak more Windows settings in order to achieve a better gaming experience with fewer lags and interruptions.
The new Game Fire update is available for both Free and Pro editions. You can download it directly from the Game Fire download page, or use the Game Fire updater app included in the Pro edition to download and deploy the new update automatically.
In the following few notes, I will give you a brief about features, enhancements, and bug fixes introduced in Game Fire v6.6. You can view the complete list of changes in Game Fire 6.6 release notes.
What is New in the PC Game Booster Game Fire v6.6
We have added Japanese localization, thanks to our partner Dieci. We will continue to support more languages in the upcoming Game Fire releases. You can now instantly change the UI language by using the new option in the Game Fire main menu, this will eliminate the need to open the Settings window to change the language and to restart the application manually.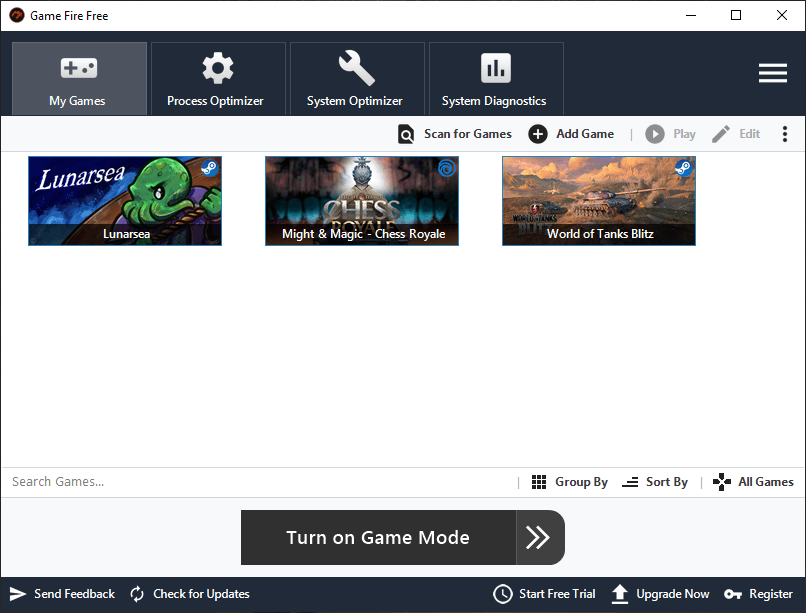 Starting from Game Fire v6.6, the user interface will support color customization. We have added a Gray theme and will continue to add more color themes in the next releases. Besides the color themes, we are working on a complete dark style so that Game Fire's UI can blend with the Windows dark mode.
We have improved the way Game Fire uses to launch games registered in My Games where Game Fire launches them directly instead, they will be launched using a new module (GameLauncher.exe) that will launch games like they were started from the Windows File Explorer, this approach will fix many issues with games using anti-cheating mechanisms as they think Game Fire is a cheat or a debugging tool.
As for My Games, we have improved the integration with Steam and Ubisoft Connect, added support for Battle.net games, and added an option to refresh the games cache to fix issues with some games and to update game graphics when they change.
System Optimizer added an option to automatically create system restore points before optimizing system settings. We have disabled the optimization of specific settings that are known to be incompatible with the user computer configuration. System Optimizer can now optimize permissions-protected system configurations.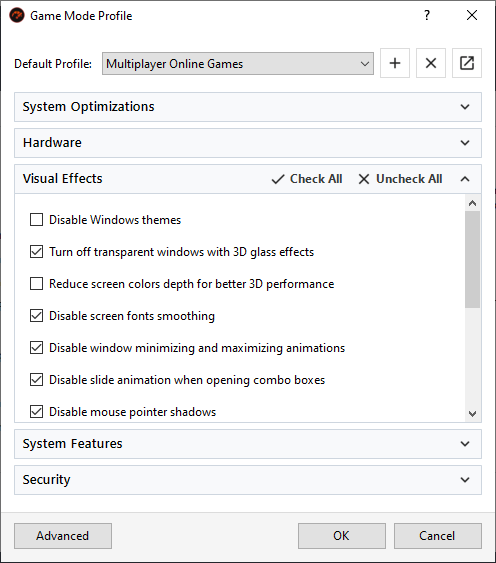 The new update introduces new game booster options you can use to optimize Windows visual effects in real-time, this would help reduce stress on computer resources when using a low-end CPU or GPU. Also, Game Fire can now optimize Microsoft non-Windows services besides the improved optimization of third-party services and scheduled tasks.
We have improved Live Optimization by fixing issues in the Live Optimization log, improving the optimization of background processes, and disabling the alternation of the processing priority of full-screen games as this impacts FPS negatively.
Game Fire v6.6 fixed a critical issue that caused the starting of multiple instances of the same app when Game Fire restores the optimized processes when Game Mode is turned off.
System Requirements
For more information, see Game Fire page